Most women of 40+ can relate to this – Can you?
It's extremely common for women, especially women of 40+ to lose the desire for sex, to experience vaginal dryness, and even lose pleasurable sensations or the ability to orgasm. This may or may not be hormone or menopause related, and often occurs way before the onset of perimenopause.
Regardless of the cause, it doesn't have to be this way and just because it's common doesn't mean it's 'normal' or okay.
Sadly, many women also experience (or will go on to experience) the following:
Embarrassing leaks when laughing, coughing, exercising, lifting, or when the bladder is full
Pelvic organ prolapse (protruding of bladder, urethra, uterus, or rectum into the vagina)
Vaginal atrophy (narrowing and shortening of the vagina, dryness, thinning of the skin lining the vagina, leading to tearing, soreness, bleeding, infections including repeated urinary tract infection, and pain)
Again, these unpleasant symptoms are extremely common in women over 40+ and may or may not be hormone or menopause related – but that doesn't mean they're 'normal' or just part of being a woman, or that you should have to simply put up with them.
So, here's the good news! I offer a safe, effective, totally natural and holistic approach to Reawaken Sexual Desire, Juiciness & Pleasure ~ and the only side-effects are that the above list of nasties (incontinence, prolapse, vaginal atrophy) tend to greatly improve, and often disappear along the way, whilst self-confidence, and maybe even self-love blossom!
In other words: I am thrilled to say that I help women of 40+ to reawaken desire, juiciness, and pleasure, and have the most satisfying sex of their lives ~ Even if they don't have a partner. And along the way, super-strengthen and rejuvenate their pelvic floor and vagina so they can belly laugh without leaking, feel totally confident in their bodies, and learn to love themselves!
How it works
We spend 3 months focusing together on making the changes you desire a reality. As part of the Reawaken Desire & Pleasure 3 Month Intensive you'll have supportive and  truly transformative 1:2:1coaching sessions with me online, and you'll also receive personalised audio recordings to guide you through specialised 15 minute exercises on your own, 3 times a week whilst lying on your bed with a very special, very simple tried and tested  'tool' ~ The jade egg (see below).
Between our online coaching sessions, you'll also have me to 'hold your hand', encourage you, answer questions and hold you accountable to make sure you do the practices regularly to get the fastest, most rewarding results. No, these aren't just a load of boring old Kegel exercises! They're more like a kind of simple, pleasurable yoga for your lady parts. This is a holistic approach, meaning it works with all aspects of You because all aspects of You are involved in your sexuality, not just your body – your emotions, energy levels, how you feel about yourself or your body, and so on all play a part.
Read on to find out more…
Meanwhile, here's me holding a jade egg ~ An egg-shaped piece of genuine nephrite jade gemstone with a hole drilled through to thread it. This is what we use for the practices and Yes, it's 100% safe, hygienic and effective when used with professional guidance, and No, it can't possibly get lost or stuck 'in there'!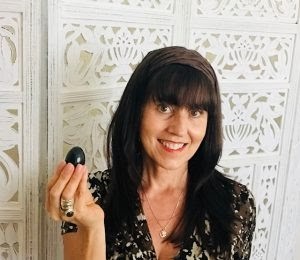 Reawaken Desire & Pleasure ~ 3 Months Specialist Coaching Intensive
This powerful personalised 1:2:1 program combines transformative coaching to shift physical, unconscious, or emotional 'blocks' to pleasure, (we ALL have them), short (15 minute) solo practices (with audio guides) to reawaken your sexual energy (libido) and restore sensations of pleasure and ability to orgasm. You really can have more satisfying sexual experiences than ever before through this approach (even if you don't have a partner). Note: Side-effects include healing or preventing incontinence, mild prolapse and vaginal dryness and atrophy!
What would your life be like when you Reclaim Desire, Juiciness & Pleasure?
Really imagine and feel into what that would be like for you…
And imagine the 'side effects' ~ The confidence and freedom of belly laughing, dancing, coughing, sneezing, lifting, or exercising without embarrassing leaks!
Then consider for a moment: How do you feel about your lack of desire and pleasure? Or embarrassing incontinence, or uncomfortable dryness?
How does it impact on your daily life, relationships, and the way you feel about yourself?
Now ask yourself: What would feeling sexual desire and reclaiming pleasure, healing or preventing incontinence, prolapse, dryness, and vaginal atrophy mean to you?And what would all this amazing goodness be worth to you?
The 3 Month Intensive includes everything you need to Reawaken Desire & Pleasure:
10 supportive, encouraging, and transformative 90 minute online 1:2:1 coaching sessions with me ~ This is not an exercise session or a bunch of tips and tricks – it's transformation!
2 personalised emails per week which include all the information, feedback and guidance you need for the practices plus much more.
At least 6 personalised 15 minute audio guides for the jade egg practices (listen on your phone, tablet, or laptop).
Free gift bonuses worth £1,655 to ensure that you have absolutely everything you need and all the support to Reawaken Desire & Pleasure!
This 3 month intensive is a true investment in your pelvic health, wellbeing, happiness, pleasure, and relationships ~ Now and in the future.   
Free Gift Bonuses
Daily WhatsApp check-ins – 'Hand-holding', guidance, support, encouragement, and accountability to ensure you stick with the practices and achieve results as swiftly as possible (worth at least £1,500)
A genuine nephrite jade egg with a certificate of authenticity and its own beautiful protective silk pouch and natural silk thread to attach to the egg worth £75
Gorgeous glass pleasure wand worth £40 (egg and wand arrive by post in discreet packaging)
Mini ritual audio guide to connect you to your egg and 'infuse' it with your desires worth £40
Your Gift to Yourself (Yes, you deserve it)
To begin investing in your pelvic health, wellbeing, happiness, pleasure, confidence, and relationships ~ Now and in the future you can make one single payment of £3,675 in advance. A payment plan is available: 3 payments of £1,275 monthly in advance. 
Read on to find out what other women have said about my work.
Click here to fill out a brief application and schedule a complimentary 30 minute no-pressure discovery call to find out how this might be right for you.
More about me and what other women say about my work below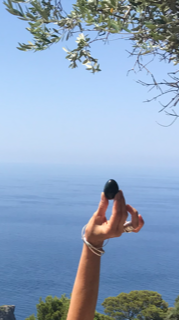 As well as a psychotherapist, I am a certified Holistic Sexuality specialist and certified Jade Egg coach. I undertook extensive specialist training in this field after reawakening my own desire and pleasure.
To schedule a complimentary, 30 minute no-pressure discovery call to find out how working with me might be right for you fill out this brief form here or to find out what previous clients say about my work read on.
What previous clients say:
"After a difficult divorce I felt very low. On top of that I didn't feel I could start a new relationship because I had no sex drive and some embarrassing symptoms (dryness and wetting myself). I was really embarrassed to talk to Jan at first but it was fine, she was so reassuring. I had 3 months coaching, did the exercises and am a new woman! I am so much more confident, I'm starting to date and looking forward to the future."
Michelle, 45, London, UK
"I felt washed out and dried up and I was sick of feeling too ashamed to even speak about sex. It was scary at first but after coaching with Jan I am HOT! And I don't mean hot flushes. I'm a confident, sexy woman and both me and my husband are very happy!" 
Karen, 57, Essex, UK
"I felt sexually numb and shut down and hadn't had an orgasm in 4 years when I started the Reawaken Desire and Pleasure intensive. My lack of interest in sex was putting pressure on my relationship and I missed intimate connection with my partner. The last straw was when I began to experience stress incontinence which made me feel old. I realised I have never done anything just for me and took the leap to give the program as a gift to myself. I am so happy that I can experience pleasure and orgasms again, and my partner and I are rekindling our intimate relationship which I thought was gone forever."
Nova, 53, Essex, UK
"I really have "Reawakened Desire & Pleasure" and learned so much about myself and my body along the way."
Nicki, 50, Edinburgh, Scotland
If you'd like to find out more simply click HERE, fill out the brief form and I'll be in touch to schedule a complimentary 30 minute, no-pressure discovery call to get clear on how this work can help you.
Please Note:
*I am not a medical practitioner or a women's pelvic health physiotherapist so my work does not involve touching clients and I cannot help with acute prolapse or the more advanced stages of vaginal atrophy (If you haven't heard of VA I strongly suggest you research it).
*All sessions take place online – Zoom, Skype, FaceTime, or Whatsapp video call.
*All interactions, calls, personal details, information and correspondence remain private and confidential.